August 12
@
9:00 am
–
4:00 pm
Facilitated by Elizabeth Lewis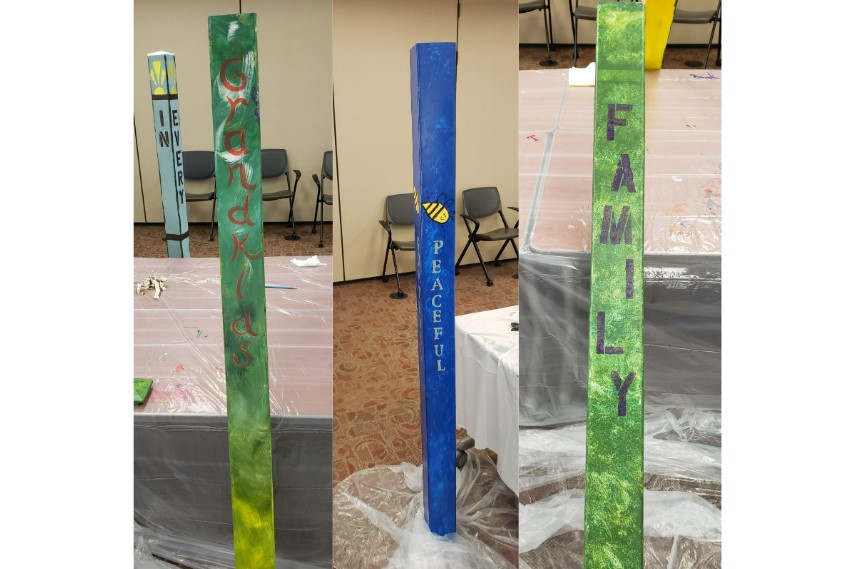 Come share your wishes for greater peace for yourself, your community, and the world, by creating a personal peace pole! A peace pole is a hand-crafted monument, colorfully painted with images and words that express your personal message of peace and hope. Peace poles can be found in gardens, as well as outside of homes, churches, and other buildings.
In addition to painting a peace pole, this workshop description will include an exploration of what it means to be an instrument of peace as expressed in the Prayer of St. Francis, guided meditation, writing and time for reflection. No art experience required! Lunch will be provided. All supplies, except the following, will be provided:
Supplies for retreatants to bring: Square PVC pipe (4 or 6 feet tall), old clothes, smock/apron (optional), mask (optional-for lung protection against primer spray particles), hair dryer (optional to quicken the drying process; St. Anthony's has one or two), Images and Pictures that say "peace" to you.
Elizabeth Lewis is a motivational speaker, personal development coach, grief support specialist and spiritual counselor whose areas of expertise include resilience building, forgiveness facilitation, healing art and writing, and trauma healing. Recognizing that there is no "one-size-fits-all" path to wellness and a sense of wholeness, Elizabeth has pursued extensive training and certification in diverse approaches to resilience, healing and growth. Elizabeth also draws on her personal resilience and experience in overcoming trauma to help her clients find their own best path to wellness. For more information on Elizabeth and her work, visit https://elizabeth-lewis-coach.com/.
The investment for the workshop is $70 and includes the noon meal.
If you are unable to attend due to financial obstacles, please contact us regarding payment plans or other options.
To register, call 715-443-2236, e-mail info@sarcenter.com, or click here.