Our Team
Candance Bahr
Resident Volunteer
Candace has been a resident at St. Anthony Spirituality Center as of 2021. She is a certified Spiritual Director and Retreat Leader. She is from Oshkosh WI. She has eight siblings and raised three children and has three grandchildren. Candace loves to paint with watercolors and encaustics. Candace is inspired and drawn to be a part of the Holy Hospitality that welcomes all to this place!
Ron Burclaff
Accounting
Phone:
715.443.2236 ext. 133
Ron has worked at St. Anthony's since 1998, however he first came to St. Anthony's as a retreatant in 1989. During that retreat he heard a phrase that forever stayed with him; "Work hard, believe in yourself, trust in God's judgement." The appeal was immediate. Ron stays busy being married to Barb for 50 years, being a dad, granddad and great granddad. He enjoys puzzles, working outside in their yard, doing projects around the house. Oh, and eating ice cream. Ron understands that we need income to pay the bills but St Anthony's is here to help people. That is the most satisfying work he does.
Adele DiNatale-Svetnicka
Retreat & Program Coordinator
Phone:
715.443.2236 ext. 118
Adele has been the Retreat and Program Coordinator since May 2021. Adele brings twelve years of parish ministry with her including creating, presenting and coordinating retreats. Adele's three adult children, Christian (Tyler), Sophia and Luciano are the lights of her life and an incredible source of love, support and joy (second only to Christ and her parents)! As an FSPA affiliate (Franciscan Sisters of Perpetual Adoration), she continually strives to live out Franciscan values and St Anthony's mission statement the best she can to all who visit.
Cecilia Gruetzmacher
Office Coordinator
Phone:
715.443.2236 ext. 139
Cecilia has been with St. Anthony's since November of 2018. Cecilia handles general office tasks and designs our newsletters. She enjoys working at St. Anthony's because it gives her a way to reach out to others in so many different ways on a daily basis. Cecilia has four children and has spent her recent years as a stay-at-home mom, which she considers her most important and fulfilling job. Cecilia is inspired by the richness of her Catholic faith and knowing that no matter how much she learns about it, there is still so much more to learn and grow from.
Jackie Hackel
Housekeeping
Jackie started at St Anthony's as a volunteer when her youngest son started 4K. She volunteered for about a year before being offered a part-time housekeeping position by the Capuchins. When St. Anthony's came under new management in 2013, she was rehired. Over time her job has expanded to include working with volunteers as well. She enjoys working at St. Anthony's because she is able to meet so many nice people from such a wide variety of backgrounds who she would never get to meet otherwise.
Tracy Hoefs
Resident Volunteer
Tracy first heard about St. Anthony's in 2016 and started volunteering as a host soon thereafter, He became a resident volunteer about a year later. Tracy is involved in various technology endeavors at St. Anthony's including Web Design and implementation. Most recently he introduced videography once again to St. Anthony's, offering virtual modalities to select programs. In his spare time, Tracy is working to complete a second degree in Computer Science. He has passions for music, photography, hiking and kayaking. He can often be seen on "chopper" mowing the grounds where he finds times of peace and reflection.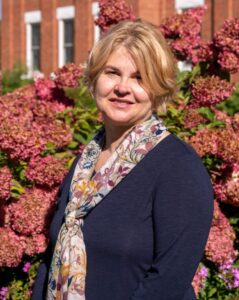 Kim Hoenisch
Food Service Manager
Phone:
715.443.2236 ext. 121
Kim has been with St. Anthony's since 2015 when she started volunteering in the kitchen. She is responsible for all day-to-day kitchen operations. Her goal is to provide delicious, nutritious meals along with a pleasant dining experience. Kim's favorite part of her job is working with her Thursday ladies and gaining the knowledge that her ladies share. Kim is married and has twin sons who attend St. Mary's school in Marathon. She also belongs to the American Legion Auxiliary and enjoys doing community service projects to help the Veterans.
Jacqueline Kellner
Center Director
Phone:
715.443.2236 ext. 116
Jacqueline is responsible for St. Anthony's achievement of its mission and financial objectives. Officially Jackie has been with St. Anthony's since September 2019; unofficially since June 2019 when she fell in love with this sacred place while on private retreat. Since then St. Anthony's has become her second home. Jackie's main goal is fulfilling St. Anthony's mission by sharing what she discovered here with ALL others who are in need of hope and healing. Jackie is also a volunteer coach with Marshfield Area Special Olympics, where her son Danny participates in powerlifting, flag football and basketball.
Sr. Barb Knauf SSJ-TOSF
Hosting Coordinator
Phone:
715.443.2236 ext. 114
Sr. Barb is responsible for assisting groups coming to use the facilities and those making a private retreat. Sr. Barb grew up in Marathon next to the cemetery. "They are the best neighbors anyone could ask for, no loud parties" she has been known to say. Her love of St. Francis grew with the help of Fr. Ben Adams, OFM Cap. This love also helped to answer her vocation call in 2008. Joining the staff at the end of August 2020 lets her help others feel at home, relax, re-energize their spiritual/physical/emotional life, and grow in their relationship with God.
Robert Mooren
Building & Grounds Supervisor
Phone:
715.443.2236 ext. 113
Robert is known as "Just Bob" to those at St. Anthony's. "Robert Joesph" was used only by his mother when she was upset with him. Bob was raised on a family farm in the township of Oneida with four sisters and three brothers. He has been with St. Anthony's since 2018. Bob's goal at St. Anthony's and in life is "to simply put a smile on people's faces when they see me or hear my name 'Just Bob.'" Bob's favorite hobby is pondering, and as we know, great things begin with deep reflection.
Jain Skaar
Housekeeping Coordinator
Phone:
715.443.2236 ext. 135
Jain is responsible for maintaining a clean and safe environment at St. Anthony's. She oversees supply inventory and scheduling of volunteers for cleaning. Jain has been with St. Anthony's since 2008. Prior to that, she worked in healthcare as a switchboard operator and later as an administrative assistant to the Health & Information Network. In her spare time Jain gardens, spends time with her grandchildren, walks, lifts weights and enjoys music and reading. One of Jain's favorite quotes is, "I am here only to be truly helpful."
Board of Directors
Left to Right | Sr. Roselyn Heil Dave Joswiak Terry Pisca Jeanette Carlson Terri Sersch Gary Gisselman