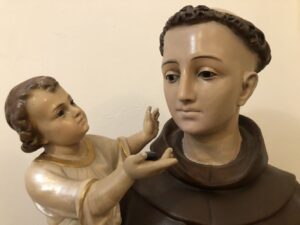 Friday Fun Fact! September 23, 2022
Did you know that our patron, St. Anthony of Padua, was born Fernando Martins de Bulhões in Lisbon (Portugal)? The wealth and nobility of his family allowed him to attend religious schools and eventually an Augustinian community. At one of these schools, he met and was greatly touched by some visiting Franciscans who were en route to Morocco and were killed there. Their mission and martyrdom inspired him to join the newly formed Franciscan order.
Throwback Thursday, September 22, 2022
(continued from last week..) Fall 1917 - The second reason leading Fr. Antonine Wilmer to choose St. Anthony of Padua as 'our' patron saint was to honor the memory of Fr. Anthony Rottensteiner. Fr. Anthony had been a secular priest when he applied to be admitted to the Order (in 1866). He was accepted and served the province as a lector and educator, leaving 'an indelible mark on the intellectual development of the Province.'
a Thought for Tuesday, September 20, 2022
"Creation is a network of relationships, a reality that is defined through relatedness and solidarity. Just as "God so loved the world that he sent his only begotten Son, (John 3:16) so we are called to love the world and be sent into it." [Mitchell, Sr. Daria. (Ed.). (2015). Build with Living Stones: Comprehensive Course on the Franciscan Mission Charism. Franciscan Institute Publications, St. Bonaventure University.
Throwback Thursday, September 15, 2022
Fall 1917: Fr. Antonine Wilmer decided that St. Anthony of Padua would be 'our' patron saint for two reasons: 1) St. Anthony was known as an outstanding preacher thus was the first lector of the Franciscan Order; he knew how essential the Order's pastoral mission was; he believed and taught that the bread of Scripture and Eucharist may not be separated from the bread of the hungry and the poor as both are expressions of God's love. 2) tune in next Thursday for reason #2! …
a Thought for Tuesday, September 13, 2022
Prayers are tools not for doing or getting, but for being and becoming. - Eugene H. Peterson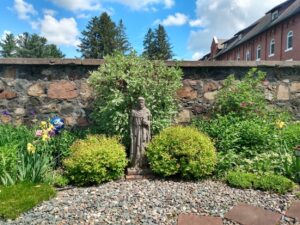 Monday Moment, September 12, 2022
It was wonderful to have mostly a full house this past weekend! With two retreats and one biblical studies group, many authentic and spirit led conversations were shared this weekend. Holy laughter and holy tears bring much healing, support and encouragement in our daily journeys and our relationships with God and each other.
Friday's Fun Fact, September 9, 2022
St. Francis of Assisi was baptized Giovanni di Pietro di Bernardone by his mother, Pica de Bourlemont, a noblewoman from Provence, France, in honor of St. John (Giovanni) the Baptist. St. Francis's father, Pietro di Bernardone, was away in France on business. After he returned to Assisi, Pietro began calling his son Francesco, which means "Frenchman", "Free man", possibly in honor of his successful business practices and Pica's heritage in France.
Throwback Thursday, September 8, 2022
September 11, 1929 classes at St. Anthony's were dropped on this day to allow the clerics/students to haul stones for the steps going to the grotto.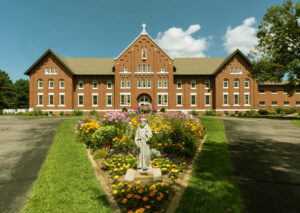 Monday Moment, September 5, 2022
Blessings to you this Labor Day. We ask our Lord to encourage, sustain and guide us in our work so that all we do is joyful service to neighbor bringing glory to God our Creator, whether our work is secular or religious. We pray for those who work during the dark night and in the harsh outside conditions of the day; those whose work is dangerous or is rough on their body. We pray for those looking for work and for us all to find dignity in each job we do. We pray for all, in Christ's name. Amen.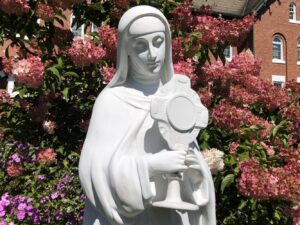 September 2, 2022 Friday's Fun Fact
Clare created a new model of religious life for women. She was inspired by Francis' observation of living absolute poverty, and she wanted to do the same. She, as Francis, refused to have material possessions, endowments, salaries or stipends. This was a rejection of the Church's law on how women's communities were to live; she fought long and hard for this. Hers was the first approval of a rule written by a woman!
Throwback Thursday, September 1, 2022
September 1922, attempts continued in building and repairing dams and breakwaters on the Rib River with the desire to make 'the river look like a beautiful lake.' But alas, nature and the Rib River won out in the end, and we continue to enjoy the natural beauty of the Rib River today.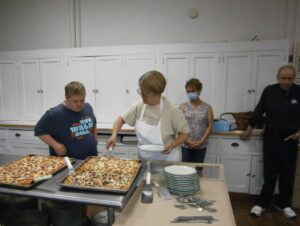 Tuesday, August 30, 2022: Volunteer Spotlight
Happy birthday to one of our regular volunteers, Danny! Today is his 31st birthday. We had the chance to celebrate with Danny last Thursday when he was here. Kim made pizza for lunch and picked up a Brewers birthday cake. Danny comes a couple of times a month to help Jackie H. with housekeeping chores. He also helps Kim by wrapping silverware, and has been known to tackle other tasks inside and out as needed. Thanks for your hard work, Danny, and many happy returns!
Monday Moment, August 29, 2022
Refresh and Renew: Moving Meditation Practices for Self-Care with Elizabeth Lewis was wonderful this past weekend! Many practices were introduced and tried with some of the very favorites being: the Root/Tree Meditation, the impromptu Rain Meditation (we embraced the change in weather) and of course the Chocolate Tasting Meditation! Now these 'new tools' have been taken home and will be used for mindfulness in our daily lives. Ahhhhhhhh (Walking the Labyrinth was one option to practice 'Moving Meditation')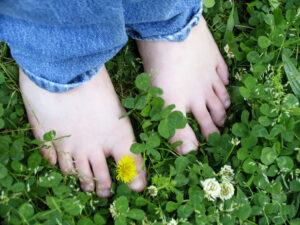 Saturday, August 27: Movers Welcome!
This weekend we welcome Elizabeth Lewis and guests to Refresh & Renew: Moving Meditation Practices for Self-Care. Even though it is raining outside this morning, we have plenty of room to move and meditate inside. God's blessings on their weekend with us!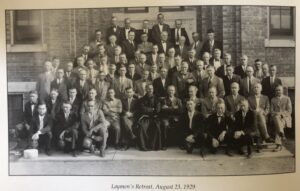 Throwback Thursday, August 25, 2022
The first retreat for men at St. Anthony's was in August 1923! These retreats were held, and very well attended, through the summer of 1934. The retreats were subsequently held at the newly built Monte Alverno.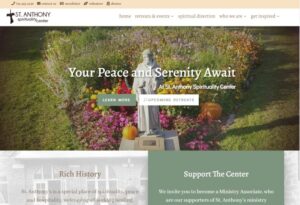 Wednesday, August 24, 2022: Welcome to our new website!
We hope you like the updates. For our regular readers, although we have several of the most recent Reflections and House Chronicles loaded on the new site, any comments made on the old site did not carry over. Please look around and let us know what you think.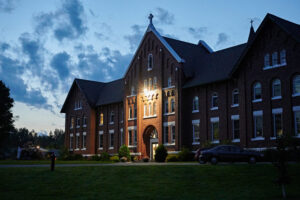 Monday, August 15, 2022: Happy Birthday!
St. Anthony's is 103 years old today! On August 15, 1919, St. Anthony's celebrated its Mass of Dedication and officially opened its doors to welcome young men in the Capuchin order who wished to study for the priesthood. Since 1970, when the seminary moved to Milwaukee, St. Anthony's has been here welcoming retreatants from all faiths and backgrounds to this place of peace and serenity. Here's hoping for many more birthdays yet to come.