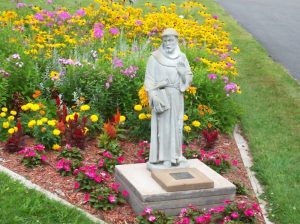 Wednesday, October 4 - Feast Day
Happy Feast Day to all Franciscans and Franciscans-at-heart! Today is the Feast of St. Francis, the father of all Franciscans including our Capuchin brothers. Francis left his moderately wealthy family in Assisi to become a friend of the poor and the marginalized. His counter-cultural approach to life attracted many to join the three orders he founded - the First Order Friars Minor, the Second Order Poor Clares and the third Order Secular Franciscans. Today there are approximately 650,000 Franciscans in 110 countries.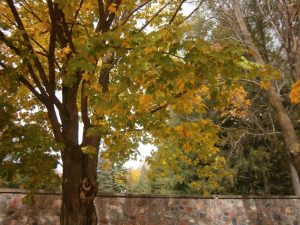 Wednesday, September 27 - Welcome Autumn!
While the trees have been changing color for almost two months already, autumn officially began on Saturday. It has been a cool, wet autumn so far with several inches of rain over the weekend and drizzles ever since. But the clouds will break and the sun and warmer temperatures return in time to welcome Fr. Dan Crosby for our Franciscan Living Retreat this weekend. We are expecting a good crowd, so they will undoubtedly be grateful to explore the colorful woods during their retreat.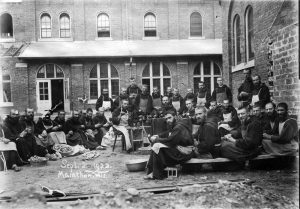 Throwback Thursday September 21 - Harvest Time
Fall is harvest time. In this photo from September 1922, the harvest was apples, and the clerics were all recruited to help peel apples. Since electric freezers were probably not an option in 1922, the apples were likely turned into applesauce and canned, to be served to the clerics over the winter months. The community was very much self-supporting, with both students and staff doing their share of the work needed to sustain the community.
What's New Wednesday, September 13 - Cool!
You probably won't recognize this very cool part of St. Anthony's, but it is the brand new fan in our walk-in cooler. Our old fan had seen its better days and gave us a few sleepless nights, checking to see that it was still running. We have been saying more than a few prayers that our old fan would hang on until we could get a new fan installed, because nothing happens immediately any more, no matter how important it might be. Anyway, the new fan was installed just before Labor Day, thankfully with no installation issues, so we are good to go for our busy fall season. Deo Gratias!
Wednesday, September 6 - Flat Friar at Zion National Park
Flat Friar is away this week visiting the National Parks in Utah. Today's stop was Zion National Park. Flat took this selfie in front of the Three Patriarchs - from left to right, Abraham, Isaac and Jacob. Besides the religious tie, Flat Friar learned that although Zion Canyon has been around for millions of years, Zion National Park was established as a National Park on November 20, 1919, the same year St. Anthony's opened. Another birthday celebration!
Monday, September 4 - Happy Labor Day!
The Center is closed for the Labor Day weekend so our staff can enjoy the last weekend of summer with their families and friends. They will be back at their labors on Tuesday, September 5. Happy Labor Day to everyone!
Throwback Thursday August 31 - Recreating
Anyone who thinks the friars were all work and no play did not know them very well. In this photo taken 100 years ago, August 1923, the friars went to Rib Hill (now known as Rib Mountain State Park) for a day of relaxing and recreating. They clearly also lacked fear, climbing out on this rock ledge just for the photo opportunity. Our staff will take the coming Labor Day weekend for some relaxing and recreating of their own. The Center will be closed Friday, Sept. 1 through Monday, Sept. 4 for the Labor Day holiday.
Friday, August 25 - Myrtle the Turtle
Meet Myrtle, a rather large snapping turtle (almost 2 feet long from the tip of her nose to the end of her tail). She has made an appearance on occasion at St. Anthony's. We knew she was around because JustBob often sees her youngsters in the pond, sunning themselves on a downed tree, but it is pretty rare to catch a glimpse of Myrtle. JustBob spotted her Thursday and snapped a few pictures to share.
Tuesday, August 22 - Flat Friar and Friends
Flat Friar took a trip to Green Bay last week to celebrate the "joint" birthday of St. Anthony's and the Green Bay Packers. The Packers, born on the Feast of St. Clare, August 11, 1919, are a mere 4 days older than St. Anthony's. While Flat Friar was in Green Bay, he attended training camp practice and met a couple of flat friends - Flat Jordan and Flat Preston. Flat Friar invited his friends to return the visit, so here they are hanging out in the front hall of St. Anthony's. As the sign says, all are welcome here!
Throwback Thursday, August 17 - Retreat Ministry
Most folks are aware of St. Anthony's long-standing retreat ministry, but not many realize that history dates back to August 1923, one hundred years ago. Retreats in those early years were limited to men's retreats as women were not allowed in the cloister. In addition to diocesan clergy, lay men and boys made retreats during the summer months from 1923 through 1934. Beginning in 1935, the retreats were held at the Capuchin's newly opened Monte Alverno Retreat Center in Appleton. The outdoor Stations of the Cross and the Grotto, completed in 1929, were largely the result of gifts made to St. Anthony's by the lay retreatants.
Tuesday, August 15 - Happy Birthday!
Today is St. Anthony's 104th birthday. The doors opened to this holy place on August 15, 1919 to welcome its first class of theology students. It served as a House of Studies for Capuchin Franciscans until 1970 when it transitioned to a retreat center. In 2013, the Capuchins sold the property to a non-profit group of lay people who have continued to operate it as a spirituality center in the Franciscan spirit. To the staff and Ministry Associates who keep this Center going, we say Happy Birthday! Ad multos annos!!!
Friday, August 11 - NCIS
Thank you to this group of NCIS (Neighborhood Catholics in Service) volunteers who were here Monday to help JustBob with some work. These middle school students from the Wausau area parishes carried firewood up to the decks, and added chairs back in the chapel and in the dining room. They also had time for prayer and socializing. We appreciate these young people taking time out of their summer to help others.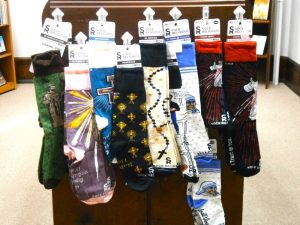 What's New Wednesday, August 9 - Sock It To Me!
These festive socks just arrived in the Bookstore. What a fun way to share your faith! Styles range from St. Francis to Mother Teresa, the rosary to the Eucharist. We have both adult and children's sizes. The Bookstore is open Wednesdays from 10 am to noon and from 1 pm to 3 pm. Walk-ins welcome! Or call 715-443-2236 to schedule a more convenient time during our regular office hours, Monday thru Friday, 9 am to 4:30 pm.